Design ID#: VECTOR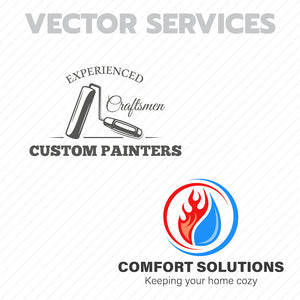 We Redraw Your Logo In Vector Format
Order Process
After your order is placed, our design team will contact you via email for your current logo image to be redrawn in vector format. We will redraw your logo and send over both the vector and image files of the recreated logo.
Product Description
Redraw your current logo in vector (scalable) format
Final vector and image files provided once completed
Fonts may need to be supplied if we are not able to match (**Specialty fonts may need to be purchased outside our services if needed for logo redraw)
*This is not a new logo concept design order but simply a redraw of your current logo in a vector scalable format. This order does not apply to complex character style logos. For complex logo redraws you would need to place that order as a custom logo design.
Design Turnaround:
Estimated 24+ hours (dependent on design complexity)